Subaru Autosportif GB cars continue development.



Posted on May 22, 2006

Subaru Autosportif Racing GB headed to Germany for the third round of the of the VLN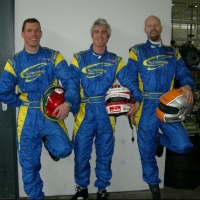 BFGoodrich Langstrecken Meisterschaft championship at the Nurburgring.
The 4 hour race provided the perfect test opportunity for this new team in preparation for the infamous 24 hour race, on the legendary Nordschleife circuit.

The Subaru Impreza STI Spec C, driven by Phil Bennett, Alan Van Der Merwe and Jonathan Price qualified 31st out of a huge field of 205. Missing from the driver line up was Chris Atkinson who was competing in the Italian round of the World Rally Championship.

Friday evenings open practice session was held on a wet track, Alan took the opportunity to familiarise himself with the Nordschleife circuit having previously only driven on the Grand Prix circuit. After only 2 laps he managed a very impressive 12th fasted lap in the session.

Van De Merwe started the race and made rapid progress through the field achieving 14th overall and 3rd in class behind the BMW of Stuck / Quester and the Porsche of Lorenzo / Jacksties / Bartels before pitting for fuel, tyres and driver change. Jonathan Price continued the rapid pace, setting the teams' fastest time on lap 8. But with a drying track, Jonathan's session was cut short as the car came in for new tyres and Phil Bennett took the wheel.

Phil had not completed his first lap when the famous Nurburgring weather changed yet again and a torrential downpour left the track running with water. The wet conditions resulted in carnage on the track and it was only a matter of time before the red flag stopped the race stopped. Leaving Phil disappointed at not having made his mark on the race.

The car and team have made significant progress since the outing in April and now plan a final test in the UK before the 24 hour race in June.

For further information about the Subaru Endurance Racing or to discuss commercial partnership opportunities, contact:

Martyn Spurrell,
Autosportif Limited
Unit 4, Murdock Road
Bicester, Oxon OX26 4PP
Tel +44 (0)1869 250555
Fax +44 (0)1869 250650

Subaru www.subaru-global.com
Autosportif www.autosportif.co.uk
Phil Bennett www.philbennett.com
Alan Van Der Mewre www.alanvandermewre.com
24Hour race www.24h-rennen.de
VLN Championship www.VLN.de.